Yesterday was my birthday, which I proudly share with the 35th President of the United States, John F. Kennedy. Which got me thinking. While it's obvious Ian Fleming, Albert R. Broccoli and Harry Saltzman are the three of the main reasons why Bond fans continue to enjoy the six decades of films… JFK is someone who deserves a lot of credit for the overall legacy of James Bond.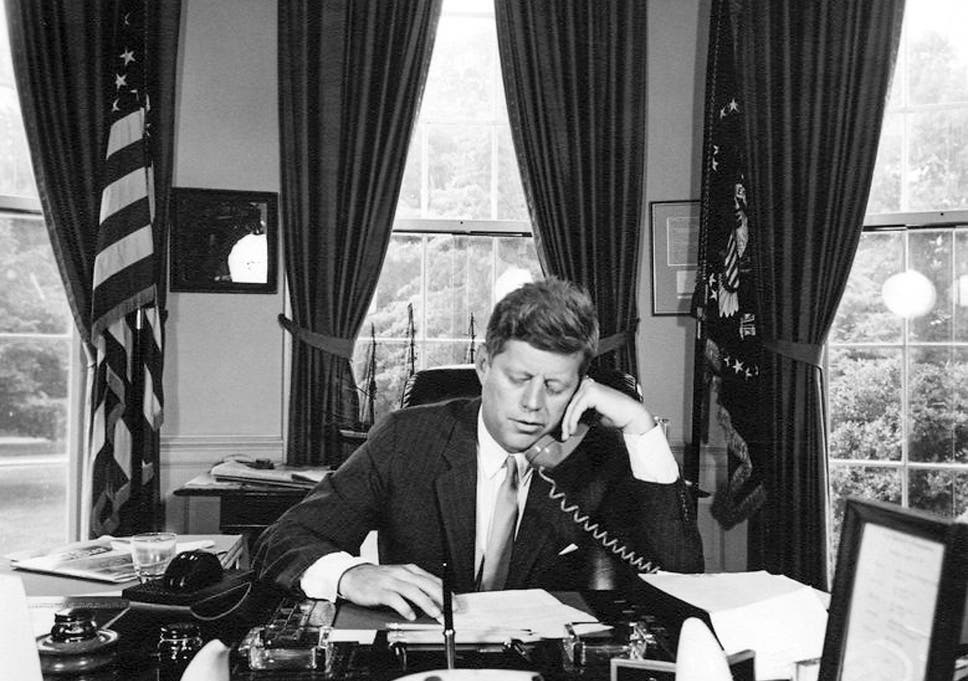 In an interview in 1961, a reporter asked President Kennedy what type of books he liked read. Kennedy was known to be a big fan of Fleming's 007 novels and listed From Russia With Love as one of his top ten favorite books of all-time. Once the public found out about what this extremely popular President enjoyed reading, the Fleming-Bond books became best-sellers.
The two men did get a chance to meet. Fleming was invited to a party in Washington D.C. held by President Kennedy, very early in his first term. They had a quite an intriguing conversation about the crisis with Cuba. Fleming told the President a very peculiar way to get rid of the Communist leader of Cuba, Fidel Castro. Sounding like something straight out of Bond story, Fleming said that Castro's beard was the key. Without his trademark beard, Castro would be normalized. Fleming said that the U.S. should announce that they found that beards attract radioactivity and any man with a beard could become radioactive and sterile. If Castro fell for it, he would immediately shave it all off and the Cuban people would see him as just an ordinary man. It's reported that JFK had a good laugh about this bizarre suggestion. This tale makes me want to view the pre-title sequences of Goldfinger and Octopussy again in a different mindset.
I think JFK fancied himself as an American Bond. It's comforting to know that one of the last films he ever saw was the adaption of his favorite 007 adventure, From Russia With Love in November 1963.
But it wasn't just cool Kennedy who helped make Bond, James Bond iconic. Let's not forget about the ultimate bachelor in his robe and pjs; smoking a pipe.
Hugh Hefner ties into James Bond and the 1960s perfectly. Hef lived the life that most men wanted to live. It was his decadent magazine (Playboy) that first published Ian Fleming's James Bond short story, "The Hildebrand Rarity". Following that publication  came five other 007 stories. A three-part version of "On Her Majesty's Secret Service", "The Property of a Lady", a serialized "You Only Live Twice", and then Fleming's final 007 work "The Man with The Golden Gun".
And then we have the connection between Bond and Playboy in the film On Her Majesty's Secret Service. While waiting to crack a safe in Bern law office, James grabs a copy of the February 1969 issue of Playboy. Bond (played by George Lazenby) takes a good look at the monthly centerfold, and has a smile on his face like a horny teen boy. I guess that could be James Bond's inner child.
In Diamonds Are Forever (the very next Bond flick), the character Tiffany Case finds Bond's wallet (which James put inside the jacket of the deceased Peter Franks). And of course, she takes out his Playboy Club membership card. Can't you just imagine James hanging out with the bunnies in the grotto?