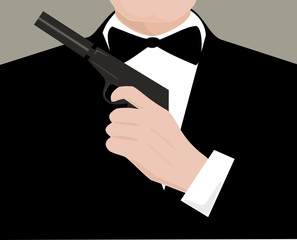 Speculating on who the next actor to portray James Bond is a time-honored tradition. Each month, I will be ranking the top 7 contenders to take over for Daniel Craig. 2019's 25th official Bond movie will be Craig's 5th and final turn as 007. It's been a remarkable era, but now it's time to think about which actor will take this character in the 2020s.
You can forget about me listing big name actors like Tom Hardy, Tom Hiddleston, Henry Cavill, Michael Fassbender, Idris Elba, etc.
Four out of the six men who played Bond have either been unknowns or actors who weren't household names. The other two were well-known TV actors, not movie stars, before stepping into Bond's shoes. My list is going to be a mix of actors who have been mentioned as serious contenders to be the 7th Bond, and some out-of-the-box contenders.
001. James Norton
photo credit: GETTY
Age: 33
Height: 6'1
Nationality: British
Best Known For: Happy Valley (TV), War & Peace (TV), McMafia (TV)
002. Aidan Turner
Age: 35
Height: 6'0
Nationality: Irish
Best Known For: Poldark (TV), And Then There Were None (TV)
003. Jack Huston
Photo: Karwai Tang—WireImage/Getty Images
Age: 35
Height: 6'0
Nationality: British
Best Known For: Boardwalk Empire (TV), American Hustle (film), Ben-Hur (film)
004. Charlie Hunnam
PHOTO: DAVID FISHER/SHUTTERSTOCK/REX
Age: 38
Height: 6'0
Nationality: British
Best Known For: Sons of Anarchy (TV), Pacific Rim (film), The Lost City of Z (film), King Arthur: Legend of the Sword (film)
005. Dan Stevens
Photo: Mike Marsland/WireImage
Age: 35
Height: 6'1
Nationality: British
Best Known For: Downtown Abbey (TV), Beauty and the Beast (film), The Man Who Invented Christmas (film), Legion (TV)
006. Tom Hughes
 Photo: InStyle
Age: 32
Height: 6'1
Nationality: British
Best Known For: About Time (film), The Game (TV)
007. Tom Bateman
photo credit: Vianney Le Caer – Invision – AP
Age: 29
Height: 6'2
Nationality: British
Best Known For: Murder on the Orient Express (film), Da Vinci's Demons (TV)