He's the coolest secret agent around, but every now and then 007 gets caught in some hauntingly embarrassing moments. I've listed my top (bottom) seven of these cringeworthy film scenes. Roger Moore makes a heavy appearance on the list. I think he would be fine with that.
001. James Bond "invents" snowboarding (A View To A Kill)
Not only does he show us this new sport, but by doing so he makes every Russian become bad at skiing. The cover of a cover of The Beach Boys classic doesn't help. Yet, for a movie like A View To A Kill it does let you know what you are in for the next two hours. My favorite part of this entire pre-titles sequence is knowing Roger Moore never set foot on location.
002. James Bond yells like Tarzan! (Octopussy)
Sticking with the late great Sir Roger; here we have him escaping a deadly safari hunt. For some reason, Bond decides to literally sound like Johnny Weissmuller's Tarzan while swinging from vine to vine. Nobody yells it better.
003. (3 way tie) The crocodile, the gorilla and the clown. (Octopussy)
Which other James Bond actor would allow himself to be dressed up like this? The correct answer is only Roger.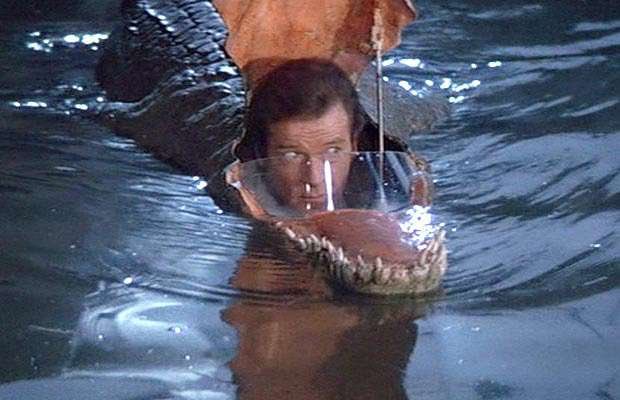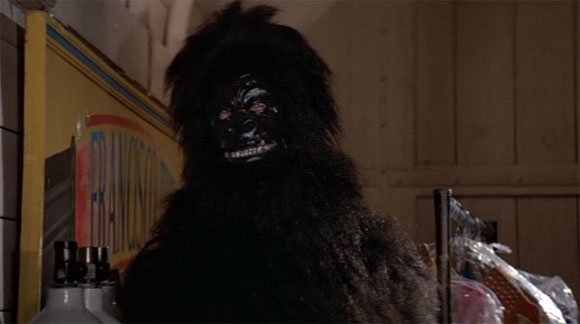 004. James Bond goes kitesurfing! (Die Another Day)
Pierce Brosnan gets into the embarrassing act game here. Bond kite-surfs an icy tidal wave in Iceland. As if the CGI wasn't humiliating enough.
005. James and Sheriff J.W. Pepper go for a loopy ride. (The Man With The Golden Gun)
Perhaps the only thing more embarrassing than that slide whistle is being in the same car as Sheriff J.W. Pepper. But let's face it, that slide whistle ruins an amazing real life stunt.
006. Bond swings from a fire truck. (A View To A Kill)
Looking like a scene I would have created as a 7 year-old playing with my toys, James is hanging on for dear life from a San Francisco fire truck. Swing me back!
007. James decides to quip after sex with Dr. Christmas Jones. (The World Is Not Enough)
He had been waiting the whole second-half of the movie to get in a Christmas joke! Mission accomplished.