We know all six of them, and we all love to watch them as James Bond. But what about those "I don't remember him in that" films? Here's each Bond actor's most obscure role IMHO. For better or worse, these are some titles that get lost on the resume.
SEAN CONNERY as The Green Knight in Sword of the Valiant: The Legend of Sir Gawain and the Green Knight
I've never seen this 1984 film because I'm pretty sure I've never seen it listed on the TV menu. Connery isn't the main star in this fantasy. This movie belongs to Miles O'Keefe, of Tarzan and Ator/MST3K "fame". Sean really does look great in green!
GEORGE LAZENBY as Mallory in The Master a.k.a. Master Ninja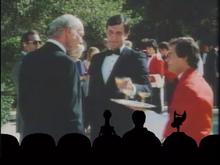 Speaking of MST3K; okay so this one isn't really a movie-movie. It's a bad 1980s TV show with Lee Van Cleef and Timothy Van Patten. But in it George has a small, but mysterious role as an agent named Mallory. He's in a tux, and he drives the Aston Martin DB5… but don't call him James.
ROGER MOORE as Dr. Judd Stevens in The Naked Face 
I did see this movie on TV as a kid and the only thing I remember at the end of it is Anne Archer dying in Roger's arms and him yelling BASTARDS! 
TIMOTHY DALTON as Sir Michael Barrington in Sextette 
If you ever want to see 80 year-old Mae West get romantic with a young Timothy Dalton… yeah I know, you don't either. So instead, here's them embarrassing themselves with a "Love Will Keep Us Together" duet.
PIERCE BROSNAN as Danny O'Neill in Live Wire 
If my memory services me correctly, this 1991 direct-to-video movie bookends with Pierce disabling a car bomb in between a woman's legs. There is also over the top baddies and suicide bomber dressed as a clown.
DANIEL CRAIG as Rudy Mackenzie in The Jacket 
A weird flick about Iraqi war vets and a time-traveling straightjacket. Oh yeah and a pre-Bond D.C. in a small role. Think One Flew Over The Cuckoos Nest meets Three Kings meets Source Code.