The idea of taking James Bond into outer space might sound ludicrous right now during the grounded era of Daniel Craig. In 1979, it was a totally different story. Smack dab in the middle of the campy Roger Moore era, and two years after the blockbuster success of Star Wars, Moonraker makes complete sense.
That's not to say that after nearly 40 years the film still holds up. It's definitely one of those Bond movie outliers. Producer Cubby Broccoli once said about Moonraker that he wanted "science-fact" rather than science-fiction. How about "science-entertainment"?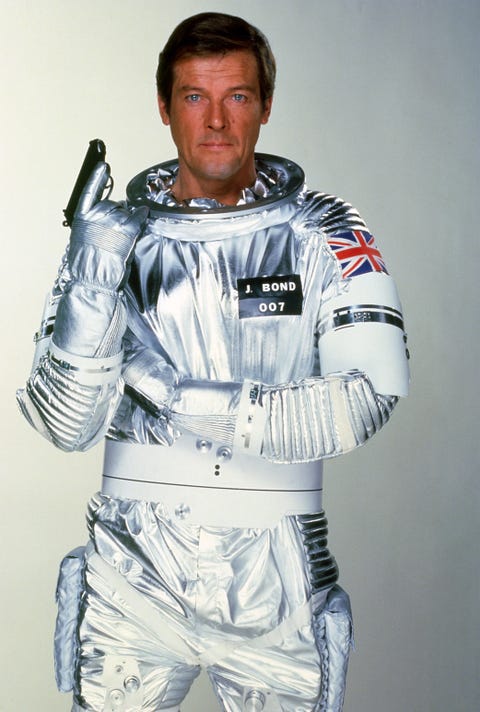 Bond's coolest moment? Pheasant hunting with Drax. Which also leads into his best line. More on that later.
Bond's most embarrassing moment? Driving a gondola on the streets of Venice. And of course, leading to the infamous pigeon double take!
Bond's best line? Drax: "You missed, Mr. Bond." Bond: (after shooting one of Drax's men) "Did I?" 
Best acting performance? This is a tough one. I'll say it's Roger Moore since he is in his Bond prime, coming off the success of The Spy Who Loved Me. 
Bond's #MeToo #TimesUp moment? I'm gonna presume being sexually aggressive towards Manuela, while killing five hours in Rio. 
Worst line in the movie? Drax: "Dr. Goodhead, your desire to become America's first woman in space will shortly be fulfilled." As he opens the airlock. 
What I noticed for the first time after watching this for the 147th time? Roger Moore's brief embarrassed look towards those weird Drax astro-girls after falling into the water (BP: Before Python).
Best action sequence? As goofy as it is, the space battle between the USA and Drax's astro-army is always pretty cool to view. 
Who or what is the title song about? Shirley Bassey is singing about finding a man like Bond and wondering if he can ever be her true love. No clue what a Moonraker is! 
Best looking cinematic moment? Bond landing in Rio. In fact, most of what is shot in Rio is a feast for the eyes. 
How could the villain have succeeded? By cutting down on the elaborate ways to kill Bond. Death by G-force, python, burned from shuttle ignition, etc. 
Which other Bond actor could have starred in this movie? Like I mentioned earlier, this is prime Moore. I wouldn't mind seeing an updated, serious version of this movie with Craig taking on an Elon Musk-type of space-obsessed villain. 
Does Bond ever think he might die? 100% when he's going out of his mind in that g-force spinning machine of death. Moore does his best acting in this scene, especially after getting out of the contraption.
What would have made the movie better? Bring back the menacing character Jaws from The Spy Who Loved Me. In this movie, Jaws is too goofy to be scary. And then making him an ally of Bond at the end, and giving him a cute (dorky?) girlfriend is beyond silly. Oh and give his girlfriend braces!!!
What's in a name? Bond never uses different name, nor does his CIA love interest… Holly Goodhead. 
What's in a title? Moonraker comes from the title of an Ian Fleming novel. 
Drinking game: Drink a dry vodka martini each time Jaws does something dumb. 
"WTF?!" moment: Drax's vicious Dobermans chasing down, and killing, Corinne in the woods. It's straight out of some 1970s horror flick.
Fun fact: This is the last Ian Fleming novel title to be made into a Bond movie until Casino Royale in 2006. Every other 007 movie title during that time is either original or from a Fleming short story. 
Overall ranking: 23rd out of 25.
Review synopsis: There's no denying Moonraker is one of the most entertaining Bond movies ever made. From jumping out of an airplane without a parachute, to having sex in zero gravity, Moonraker really goes for it from the start until the very end. But is it a good movie? Unfortunately not really, as it tries to be too much. Beautiful locations and women, just for show, until Bond finally gets his space mission to blast off.
Preposterous? Yes. Slapstick? No doubt. Out of this world? Literally!