After 12 years of popular, lighthearted movies, it was never going to be easy to replace the uniqueness of Roger Moore's James Bond. When Moore, at the age of 58, officially announced his retirement from the role in December of 1985, his replacement was already waiting in the wings.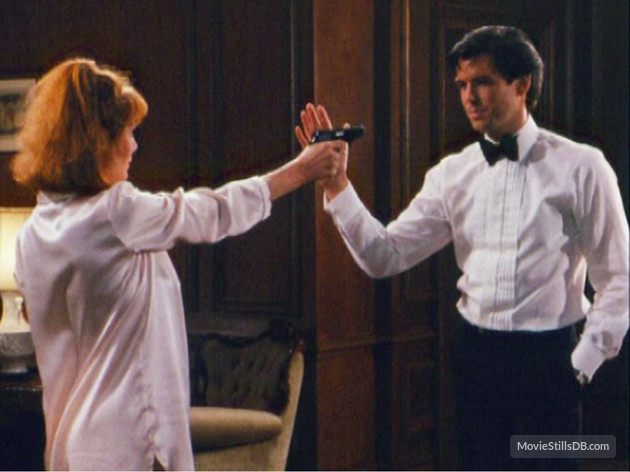 Think of a mid-1980s Pierce Brosnan as the Idris Elba of our time. Except with credible news sources, a suitable starting age, and an actual vacant role. Brosnan had been playing a Bond Jr. of sorts in the NBC hit show Remington Steele. It gave him an opportunity to show he looked good in a tux or suit, and had a grasp on light humor similar to what Moore did.
Brosnan auditioned in 1986 and eventually got the coveted roll. Unfortunately, just before the announcement of Pierce as the new 007, NBC wouldn't let him out of his Steele contract due to his sudden popularity. Even in a world without social media, this was still a major entertainment news story. Yes, Brosnan eventually got the role 8 years later, but it truly devastated him. To this day, he is still somewhat bitter at missing out on starring in 1987's The Living Daylights. What could have been?
Exactly how different is the The Living Daylights script with Timothy Dalton starring as Bond instead of Pierce Brosnan? Originally, the script was written with a Roger Moore-type 007 in mind. So that would be an easy transition for Brosnan. Dalton, as Bond fans know, brought a much harder edge to the role. His interpretation is closer to Fleming's, and was a very early beta-test for what Daniel Craig would bring to the 21st century.
When you rewatch TLD, pick out some of the differences between Dalton and Brosnan. You can clearly tell which sections of the screenplay were rewritten after Dalton was cast.
DALTON STYLE:
The car ride in Czechoslovakia with Saunders.
His reaction after the death of Saunders in the amusement park in Vienna.
His confrontation with Pushkin in the hotel room in Tangiers.
BROSNAN STYLE:
All the Q lab stuff.
Using a cello case to escape in the snow.
Hopping around rooftops in Tangiers; especially the unused "magic carpet ride".