"All I wanted was a sweet distraction, for an hour or two." This is a line from the theme song to the 13th James Bond movie, Octopussy. If that line doesn't sum up this entire film, then I don't know what else can.
I have a soft spot in my cinematic heart for Octopussy. It was my first in-the-theater Bond movie. If everyday food could represent each 007 adventure, then Octopussy would be your favorite bag of chips. You know it isn't healthy, but you sure do enjoy it. Octopussy is as straight up bonkers as A View To A Kill, yet it seems slightly less madcap because the cast is more "age-appropriate" for Roger Moore.
My "PUSSY" Notes:
I'm sure this wasn't the first time a movie showed a reversible jacket and hat, but it does feel like it.
Roger Moore's fake mustache needs its own Twitter account.
I still smile big when he says "you're a Toro too?"
This is the last Bond flick to have a pre-title action sequence that has zero connection to the film's plot. I miss those days.
The Bede BD-5 Micro looks dangerous to fly. Some terrific miniature work in this opening action sequence.
"All Time High" is the homeless man's "Nobody Does It Better."
This movie has too many clowns. Poor 009 dies dressed up like Pennywise's nice brother.
Mischka and Grischka (AKA- The Knife Twins) make solid secondary henchmen.
Brushing over the fact that her name is Penelope Smallbone; what was really the plan for her? Was she going to be the new Moneypenny if Moore didn't return for the next movie?
Fabergé eggs must have been very popular in the 1980s.
Great production design with that Soviet "situation room."
How insane is Steven Berkoff's performance as rogue Soviet General Orlov?
The plot gets a little fuzzy no matter how many times I watch Octopussy. Selling knockoffs of priceless jewels to fund secret Soviet military operations, which include nuking a U.S. base in West Germany?
Only a Bond movie could make an auction scene interesting. It helps when Roger Moore is eye-banging every attractive woman in the room.
India might be the most interesting, exotic location in Bond movie history.
This movie is very "meta". Case in point: VJ playing the Bond theme.
I could listen to the villain Kamal Khan (played by Louis Jourdan) read the phone book, or a menu, or just say "Octopussy" over and over again.
Gobinda is a very underrated all-time Bond henchman.
The tuk-tuk chase in India is beyond goofy. Nice nods to a tennis match.
The film does a nice job of making the audience think Octopussy is the main villain. She really isn't. It's Orlov to a minor degree. Khan is the main one. But she is so mysterious that it works.
The dinner scene with stuffed sheep's head as the main course freaked me out as a kid. 35 years later, it still does the trick.
Director John Glen is to pigeons, what John Woo is to doves.
I have to ask, when Bond is trying to listen in on Orlov and Khan, just how powerful is Magda's blowdryer?!
Who doesn't enjoy a good old Safari hunt in an action movie? Spiders and tigers and snakes, oh my! Oh and I left out leeches and crocodiles.
I need to know the logistics of Bond's croc-suit.
I enjoy the backstory of Octopussy's father and how it connects to Bond's past mission. I wouldn't mind seeing that turned into a movie one day.
This movie is overflowing with henchmen. The Indian thug with the yo-yo/buzzsaw!
Bond and Octopussy have a soap opera scene before hooking up.
I can't imagine how brutal VJ's death was.
Roger Moore dresses in a gorilla costume and dresses up like a clown. He is the only Bond actor who didn't take himself so seriously. Imagine Connery or Craig being asked to dress up like this? Maybe Brosnan would do it.
I enjoy Bond's cold kill of Twin #2.
I would watch in real time, however long it took for James Bond to hitchhike across Germany.
How long do you think it took Bond to put on his clown makeup, while the bomb was ticking down?
The Union Jack hot air balloon was a nice call back to The Spy Who Loved Me's Union Jack parachute.
Roger Moore's eyes have never been more expressive than when he shoots at the bannister to avoid having his balls smashed.
I know Tom Cruise does real stunts better than anyone now, but the climax of Bond hanging from the plane is still damn impressive.
When Maud Adams' Octopussy moans out the final line of "Oh James" and then a surprised "James!"… what the hell did Bond sexually do to her?!
This is the last Bond movie with the end credits telling us "James Bond Will Return In ________ . ) I miss knowing the next title of the films.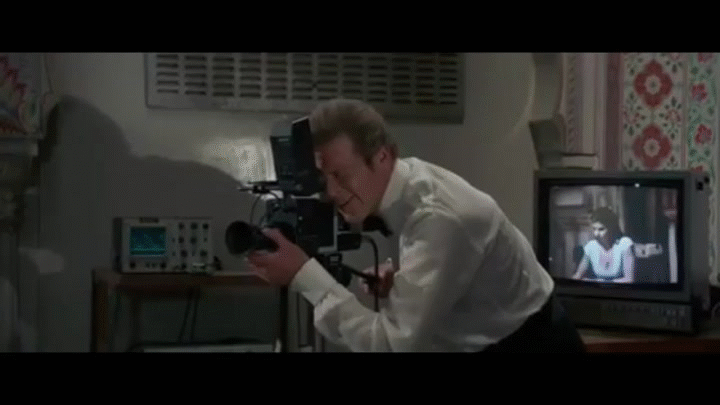 Bond's coolest moment? Playing backgammon versus Kamal Khan. Lucky dice. All in the wrist. 
Bond's most embarrassing moment? Swinging from the trees doing the Johnny Weissmuller/Tarzan yell. 
Bond's best line? "My security" *holds up the egg* "And yours?" *holds up Khan's cheating dice*
Best acting performance? Steven Berkoff as General Orlov. In the Bond crazy acting Hall of Fame. 
Bond's #MeToo #TimesUp moment? In Q's lab, of course. Using the videocamera to get a better look at that girl's boobs. 
Worst line in the movie? Even though I still chuckle, Bond giving money to his Indian contact: "That should keep you in curry for a few weeks."
What I noticed for the first time after watching this for the 173th time? The Kremlin Art Director is the same actor as the one who plays the Gasworks Supervisor in The Living Daylights. 
Best action sequence? Bond and Octopussy fighting the Indian thugs in her bedroom. 
Who or what is the title song about? I believe "All Time High" is about a woman who had a one night stand with Bond, but now wants more. 
Best looking cinematic moment? The aerial shots of Bond arriving in India. 
How could the villain have succeeded? As usual the villain decides to keep Bond around as their guest. Give him a nice room, invite him to dinner, etc. 
Which other Bond actor could have starred in this movie? Originally, Roger Moore wasn't going to come back and James Brolin was ready to step in. But honestly, this is such a Roger Moore as James Bond movie. 
Does Bond ever think he might die? A couple of times. First, towards the end of the safari. Then just 90ish seconds before the bomb is supposed to go off at the circus. 
What would have made the movie better? Lighten the load of the plot, and cut down a little bit on the campy stuff. 
What's in a name? Bond pretends to be Charles Morton, a manufacture representative, as he heads to East Germany. And of course, as Cuban military man Toro at the beginning of the flick.
What's in a title? Octopussy is the title of an Ian Fleming short story. As is "Property of a Lady", which is also used in this movie. 
Drinking game: Take a gulp of champagne each time someone says "Octopussy".
"WTF?!" moment: Bond making the "F-You" arm movement to those wacky German teens who played a prank on him while he was trying to hitch a ride.
Fun fact: The safari hunt was originally supposed to be in The Man With The Golden Gun. 
Overall ranking: 12th out of 25. 
Review synopsis: Octopussy never fails to thrill with its spectacular stunts and eye-popping locations. Roger Moore probably should have stopped after this one. It gets too campy at times and instead of being an "all time high", Octopussy is "over the top." But if you grew up in the 80s, saw this in the theatre or the countless number of times it played on cable, how can you not enjoy it?