On this exact date, one year ago, I lost my 2nd father. I know, that sounds ridiculous. Like many young boys who grew up Bond fans in the mid-to-late 1980s, Roger Moore was our 007. A superhero in a tux. It didn't matter that it was really his stunt doubles hanging off of airplanes and cliffs, or simply running up the Eiffel Tower. Roger Moore was James Bond. Not necessarily Ian Fleming's James Bond, but still he practically raised me.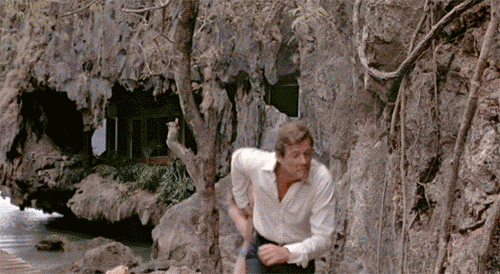 My first ever in-the-movies Bond experience was Octopussy in the summer of 1983. I was only 5 but I was just beginning to get hooked on Bond movies. As I grew older I knew he wasn't the best, or the most accurate, but to this day I can't think of a Bond actor who loved playing the part more than Roger. It was all wink-wink, tongue-in-cheek, but for 12 years and 7 films it worked beautifully.
What made his passing even sadder, was the fact that he was such a good man. After retiring from acting, he spent three decades as a UNICEF Goodwill Ambassador. The actor played the role of Bond for big laughs, but the man showed what a big heart he had when he traveled the world for UNICEF. A champion for needy children all around the world.
In honor of this somber anniversary, please help them buy donating to UNICEF.ORG
(Do it for Roger)
Every generation has their Bond and I like them all for different reasons. But I can't imagine growing up without Roger Moore as 007. I only got to see him on the big screen in two movies (Octopussy and A View To A Kill), but seeing his other five Bond flicks on the ABC Sunday Night Movie was always a major thrill.
When the song "Goldfinger" plays I think of Sean Connery. When "Skyfall" blasts out, I think of Daniel Craig. But Carly Simon's "Nobody Does It Better" is for, and will remain for, the late great Sir Roger Moore.