Sometimes movies are all about timing. The year was 2012. It had been four years since we last had a 007 adventure. The summer of 2012 gave us the London Olympics, which included a short film by future Bond director Danny Boyle, starring Daniel Craig as James Bond and Queen Elizabeth as herself (insert your own dirty Bond girl name).
On top of all that, it was the 50 year anniversary of the Bond movie franchise. A new batch of special Blu-Rays could be added to your DVD collection. When Skyfall was released in early November 2012, the timing was perfect. Just in the same way it was for Goldfinger in 1964, The Spy Who Loved Me in 1977, and GoldenEye in 1995. The audience desperately wanted a new Bond movie. It also doesn't hurt to have a great song and superb villain. There was a reason why Skyfall grossed over $1 billion dollars worldwide and adored by film critics. It's all about timing.
My SKYFALL Notes:
While I miss the gunbarrel in the opening shot, I do enjoy how Bond in the hallway makes for a proper substitute.
This has the best cinematography of any Bond film thanks to Roger Deakins. As well as the best looking Bond clothes. Those suits by Tom Ford impeccably fit Craig.
I'd love to know more of Ronson's backstory. Bond actually seems sad that his fellow agent is bleeding to death.
The pre-title sequence makes good use of Istanbul. Third time in the franchise. From cars to bikes to trains, this is an action sequence always on the move.
The cuff-straightening works for me. It's a nod to the Moore/Brosnan old fashioned tie-straightening gag.
Adele's siren song and Daniel Kleinman's visuals for the opening credits work beautifully together.
As much as I love this film, the plot has far too many unbelievable steps. Silva's plan needs us to just give in and accept that he thought of every contingency imaginable.
From locations, to British colloquialisms, I think this is the most British Bond movie ever made.
I could see "Turkish Scorpion Drinking" on ESPN 2 at 4am.
I would pay good money to see Bond's three-month "death vacation."
This script is one of the best in the franchise. So many great one on one scenes. Bond with M (Dench), Bond with new Q, Bond with (spoiler alert) Moneypenny, etc.
Bond doing DIY surgery is so Craig.
Ralph Fiennes is a great actor, but it's almost too obvious that he will be the future M right from the start.
Severine is beautiful to look at, but wasted as a character.
Javier Bardem as Silva is a bizarre delight. From his rats monologue, to his dentures, to his Max Zorin hair, he's my favorite Bond villain ever.
I don't think Bond ever had a homosexual experience, but I do think he wanted to turn the tables on Silva.
Craig is easily the best runner of the Bond actors. He could give Tom Cruise a run for his money. Pun heavily intended.
What else is in Bond's storage closet besides the Aston Martin?
I love Albert Finney as Kincade, especially when he calls Judi Dench's M "Emma".
I'm in the minority on this, but I enjoy the "Home Alone"/"Straw Dogs" third act.
I wanted a fight between Bond and Silva. A thrown knife to the back isn't good enough.
I still get emotional watching Judi Dench die in Daniel Craig's arms. This M and Bond duo had a genuine mother-son relationship.
Skyfall has one of the greatest epilogues in movie history. It ends with you wanting the next Bond movie to start ASAP. We got Spectre three years later, and its plot ruins everything that made Skyfall fantastic.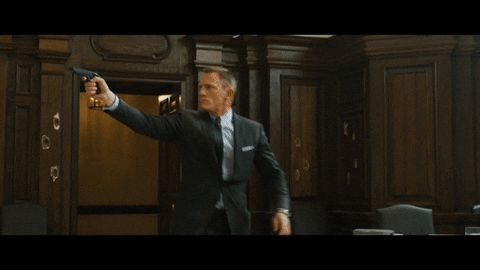 Bond's coolest moment? Entering the casino in Macau. A runner-up: kicking up the machine gun into his arms in Scotland.
Bond's most embarrassing moment? That fight in the Komodo dragon pit was too much Roger Moore for a Daniel Craig Bond flick. 
Bond's best line? When Severine asks Bond if he will kill Silva for her and James replies with "Someone usually dies."
Best acting performance? In the greatest cast of a Bond movie, Dench is the MVP. In many ways, she is the true "Bond girl" in Skyfall.
Bond's most "sexual predator" moment? Bond correctly guesses that Severine has been a sex worker since she was about 12 or 13, and what does he do? Next scene he sneaks into her shower for some steamy sex. Even Connery and Moore would say slow down!
Worst line in the movie? "Put it all on red. It's the circle of life." Yeah, five and a half years later I still don't understand what the hell James meant. 
What I noticed for the first time after watching this for the 36th time? After Bond finishes his drink and traps the scorpion with his glass, he gives the hand gesture that he's buying the entire bar the next round. With what money James?!
Best action sequence? It's not the best fight in the series, but it's the most beautifully shot… the silhouette fight between Bond and Patrice in the Shanghai skyscraper.
Who or what is the title song about? I think it's about Bond's childhood and what kind of man he has become. 
Best looking cinematic moment? Everything in Shanghai and Macau. 
How could the villain have succeeded? Silva did succeed. His goal was to kill M and he did. At the end, Bond failed to protect her. Silva did take his sweet time though, and was a tad too coy throughout.
Which other Bond actor could have starred in this movie? Since they make Bond out to be too old for his job, I think a Pierce Brosnan pushing 60 could have worked. Having said that, Craig looks so comfortable in his 3rd outing. 
Does Bond ever think he might die? Not really, which is weird since kind of does die in the beginning. Bond is pretty fearless in this film. It's as if he has a bit of a death wish. 
What would have made the movie better? Not much. I guess maybe cut out some of Silva's pre-planned nonsense. 
What's in a name? Bond doesn't use an alias, but we do learn his parents names. Andrew Bond and Monique Delacroix.
What's in a title? Skyfall is the name of Bond's childhood manor in Scotland. 
Drinking game: Take a shot of Macallan whiskey each time the word "bloody" is said. I told you this is the most British Bond movie ever!
"WTF?!" moment: Judi Dench's M becoming the first and only person in a Bond movie to say "fuck". 
Fun fact: The original title of the movie was "Once Upon A Spy" and the original script had a few differences, including Bond killing M at the end for her screwing everything up. That's pretty dark. 
Overall ranking: 1st out of 25.
Review synopsis: Skyfall does on the 50th anniversary, what Die Another Day couldn't do on the 40th anniversary. Make us care about the legacy of James Bond. Only a handful of Bond films can combine action and pathos, like Skyfall does. Who knew Sam Mendes could direct an action movie? Especially one that IMHO is the greatest Bond movie of them all.