After 1974's The Man With The Golden Gun, film critics and the movie-going public were having their doubts about the James Bond franchise. It seemed stale. As if it had run its course. In the summer of 1977, Roger Moore's 3rd outing proved the doubters wrong with The Spy Who Loved Me. Not only is it considered Moore's best 007 adventure, but it's also in the top tier of the entire Bond series.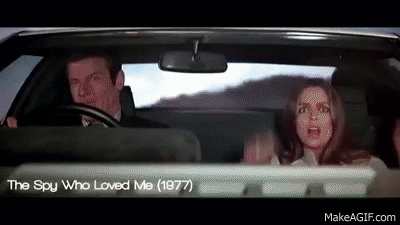 TSWLM Notes:
The tagline was "biggest, best, Bond and beyond." It lives up to this billing, although this is basically a retelling of You Only Live Twice, which was also directed by Lewis Gilbert. Replace the YOLT space capsule with submarines and you have TSWLM.
Spy gives us perhaps the greatest, most iconic, pre-title sequence. Bond in his bright yellow ski suit (Moore always being flashy) escaping from Russians, skiing off a mountain and opening up his Union Jack parachute. I wasn't born yet (about 11 months away), but I wish I could have seen this opening in packed theater. I'm sure it was an epic experience.
Carly Simon's "Nobody Does It Better" adds to the list of things that make The Spy Who Loved Me so memorable. This old-fashioned, torch-song, ranks among the very best Bond theme songs ever. Match it will Maurice Binder's risqué titles and you have a Bond match made in heaven.
Barbara Bach's Russian Agent XXX (they weren't even trying to subtle anymore!) is supposed to be Bond's equal, but she doesn't always live up to his high spy standards. Bach has an interesting beauty that keeps her from being a forgettable Bond girl.
This movie, between Bach and Caroline Munro and the busty hotel desk clerk, has the most cleavage in Bond movie history. If you're looking for that sort of thing.
If you are looking for lots of bad 70s fashion, including lots of tan on brown clothing, TSWLM covers that too. Roger Moore's ties are as big as his Union Jack parachute.
Speaking of fashion, always nice to see 007 in his naval uniform. You Only Live Twice and Tomorrow Never Dies are the only other movies, besides this one, were we get to see him be Commander Bond.
I would pay good money to see that Egyptian pyramid presentation. Later on, how did MI6 turn the ruins into their office?!
The villain Stromberg is just a low-rent Blofeld. Check closely for his webbed hands, which is probably why he doesn't like shaking hands. He's also the most comfortable villain in the series. His comfy clothes and cozy furniture, and calm aquarium… minus the shark tank.
Jaws is the most iconic Bond henchman, right up there with Oddjob. I do have some questions about him though: What does he do with those teeth? He bites right through objects, but with humans he just nibbles. Also, sometimes he's very smart, other times he is borderline mentally handicapped.
This movie also has the rare mention of James' dead wife. Moore handles this emotional scene quite well.
During the train fight between Bond and Jaws, you can really see the size difference. Roger Moore was a tall man at 6'3, but Richard Kiel at 7'2 is like from another planet. Check out during the brawl, Kiel's hands are practically the size of Moore's face.
Elon Musk's favorite car, the Lotus Esprit makes a grand entrance in Italy. Hopefully in the near future, all Tesla vehicles will be able to go underwater too.
When Bond's car rises from the ocean, and Moore rolls down the window to throw out a fish, this might be the most Roger Moorish Bond thing he ever did in seven films. His neighborly nod to the villainous helicopter pilot Naomi is right up there too.
The climatic battle between blue uniforms (good guys) and red uniforms (bad guys) inside Stromberg's submarine swallowing HQ, is another You Only Live Twice-type of scene. Just without the ninja's and hallowed-out volcano.
We get to see Bond diffuse a nuclear bomb like he's playing the game Operation.
No matter how many times I see this movie, I always think the two missles will end up striking each other in the sky.
As much as I love the scene of Bond riding the jet-ski, on his way to save Anya (XXX) from Stromberg, I do wonder how long it took him to put it all together?
Is Stromberg's elevator: the best or worst? I feel like many people would have been dropped into that shark tank by accident.
Jaws vs that shark is Pay-Per-View fighting at its best. Where was Jaws swimming to at the end?
The closing credits, after Bond's cheeky final line, has one of the oddest musical cues ever. Instead of Carly Simon singing "Nobody Does It Better", we get what sounds like a gay man's chorus singing the tune. Which then transitions into Simon's. Strange!
At the very end of the credits we get the classic JAMES BOND WILL RETURN IN… but it reads FOR YOUR EYES ONLY. The movie directly after TSWLM was Moonraker. Why was Bond's next mission in space? Well, TSWLM opened up two months after Star Wars. Bond producer Cubby Broccoli wanted to strike while the space iron was hot.
Bond's coolest moment? When he's at the Mojave Club. Moore is as charming as can be, while also doing some solid spying.
Bond's most embarrassing moment? The van scene. I love watching James Bond do a Roger Moore comedy bit, but even here he's pushing it. Just give her the damn keys!
Bond's best line? When one is in Egypt, one should delve deeply into its treasures.
Best acting performance? I'm going to give this to Moore. He's so natural this third go-around as the world's most famous secret agent.
Bond's most "sexual predator" moment? He starts making out with Fekkesh's secretary within two minutes of meeting her.
Worst line in the movie? Shaken, but not stirred. – Anya (XXX)
What I noticed for the first time after watching this for the 177th time? When Bond meets Stromberg, he notices a woman's severed hand in the aquarium. It's Stromberg's lady friend that he fed to his sharks in his first scene.
Best action sequence? I love the car chase that leads into the ocean.
Who or what is the title song about? I believe this song is about Bond's amazing love making skills. Oh and that he's also very good at his job.
Best looking cinematic moment? That ski jump off a mountain opening, without a doubt.
How could the villain have succeeded? I have major issues with his plan. Destroying the Earth so we can all live underwater doesn't seem very thought-out. For example, we need air. So I say drop the entire plan and start from scratch.
Which other Bond actor could have starred in this movie? Nobody did this one better. Roger is a perfect 007 in this.
Does Bond ever think he might die? For a second or two, he does think Anya will shoot him at the very end.
What would have made the movie better? A John Barry soundtrack. Nothing against Marvin Hamlisch, but not every track works for a Bond flick.
What's in a name? Bond goes by the name Robert Sterling. A married marine biologist.
What's in a title? The Spy Who Loved Me is an Ian Fleming title, although there is 0% of the novel in this movie.
Drinking game: Wait until the 3rd act to drink your Bacardi on the rocks every time a grenade goes off during the battle.
"WTF?!" moment: Jaws taking a bite out of that board of wood for no reason!
Fun fact: Stanley Kubrick helped out designer Ken Adam with the lighting.
Overall ranking: 5th out of the 25 movies.
Review synopsis: The Spy Who Loved Me is a Bond "best of" compilation. This is the quintessential Roger Moore – James Bond movie. It checks off all the boxes: great opening scene, ear-wormy theme song, beautiful women, stunning locations, world-domination plot, a remarkable henchman, and a leading actor hitting his stride in his third Bond movie.